The La Manchuria project is located in the central-west of the Deseado Massif, 50km SE of the Cap Oeste deposit, in Santa Cruz province, Argentina. The 5,594 ha La Manchuria block, held 100% by Patagonia Gold S.A., is located immediately north and contiguous with, the 27,558 ha Manchuria Sur block, a JV with Fomicruz S.E where Patagonia Gold S.A. is earning 90%.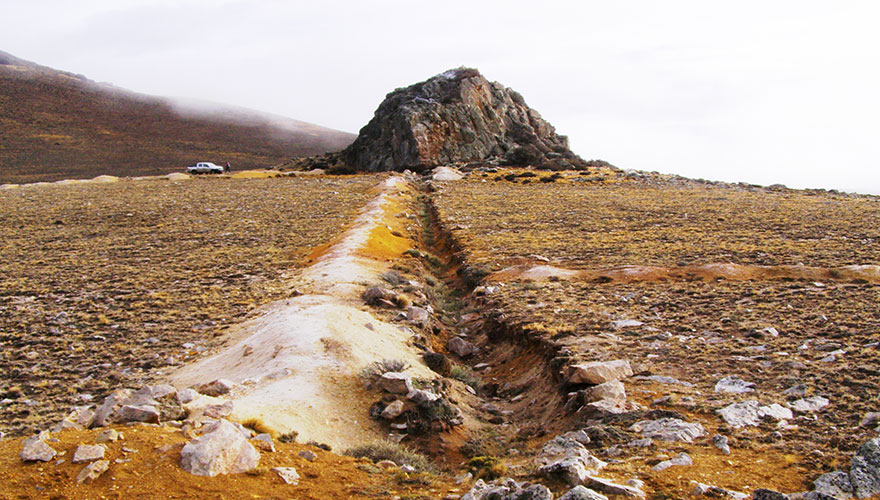 Highlights
Classic low-sulfidation epithermal Au-Ag mineralization with localized bonanza grades
100% Patagonia Gold S.A.
Excellent metallurgical characteristics
+22,200m of drilling
33,000 ha land package with very little exploration outside of the La Manchuria deposit
Geology and MineraliZation
Mineralization at La Manchuria occurs within a structurally complex, NW-SE striking deformation zone of steeply-dipping oblique-slip faults, hosted by andesitic lavas of the Bajo Pobre Formation and dacitic and rhyolitic pyroclastic rocks of the Jurassic -aged Chon Aike Formation.
Silver and gold mineralization occurs within low-sulfidation veins and veinlets of banded chalcedony, quartz and adularia displaying crustiform-colloform texture with occasional ginguro bands (very high-grade quartz and adularia veins). The Ag to Au ratio is highly variable but commonly in the range of 30:1 to 80:1 while arsenic and base metal concentrations are low. Principal veins are 0.3 to 1.0 m wide and are hosted within a halo of veinlets 2 m to 8 m wide.
Work to Date
Originally explored by Lac Minerals, commencing during 1991 and subsequently acquired by Barrick Gold Corporation during 1994 before Patagonia Gold S.A. acquired the property in February 2007.
Exploration conducted to date includes geological mapping, soil geochemistry, Induced Polarisation and Ground Magnetic surveys, trenching and 149 drill holes for a total of 22,200 m.
Significant (uncut) Intersections include:
LM-020-D, 2.9 m at 22.34 ppm Au and 400.9 ppm Ag from 119.5 m
LM-022-DR, 3.0 m at 22.77 ppm Au and 308.4 ppm Ag from 184.0 m
LM-023-DR, 20.0 m at 4.35 ppm Au and 55.8 ppm Ag from 114.4 m
LM-030-DR, 4.0 m at 26.25 ppm Au and 3156.0 ppm Ag from 142.5 m
LM-042-D, 1.6 m at 257.8 ppm Au and 4237.1 ppm Ag from 105.5 m
LM-057-D, 1.0 m at 212.0 ppm Au and 228.0 ppm Ag from 131.5 m
LM-060-D, 2.0 m at 52.55 ppm Au and 3274.5 ppm Ag from 96.0 m
LM-074-D, 17.6 m at 6.31 ppm Au and 89.9 ppm Ag from 145 m
LM-093A-D, 20.5 m at 10.44 ppm Au and 810.2 ppm Ag from 122.2 m
LM-099-D, 4.0 m at 15.97 ppm Au and 41.6 ppm Ag from 53.5 m
Preliminary cyanide leach testing indicates recoveries of up to 93% Au and 85% Ag are achievable.
Exploration Potential
The Eastern Zone of the deposit has yet to be adequately explored and the prospective corridor to the NW remains untested due to the presence of Quaternary cover sequences. Quartz veins with elevated precious metal concentrations have been reported from poorly exposed areas up to 2km from the La Manchuria deposit. There has been no systematic exploration outside the deposit area.
La Manchuria Sur: Three key prospects with high potential have been defined on the 18,200 ha, contiguous La Manchuria Sur properties (Fomicruz JV):
Cerro Turulo: Radiating silicified vein-breccias in intensely agillic-phyllic altered hydrothermal breccias. Extends NW under basalt. Very strongly elevated Au-Ag-As-Pb-Sb-Te-Se. Central zone of an >8 km NW-SE striking corridor. Au in rock chip to 14.4 ppm.
Tres Lagunas: A 700 m long strike continuation of the Cerro Turulo structural corridor with low-sulfidation veining and best result of 2.0 m at 4.4 ppm Au and 175 ppm Ag in a sawn channel sample.
Veta Speme: A 3 km long NNW striking structure with fine anastomosing quartz veinlets and breccias hosted by rhyolitic tuff. Sawn channel samples to 9.0 ppm Au and 344 ppm Ag.