Los Toldos comprises 20 contiguous concessions, for a total of 57,000 ha, located in the central north of the Deseado Massif, Santa Cruz Province, Argentina. Topography in the project area is subdued with absolute elevations of approximately 600 m amsl (above mean sea level) with a cool, dry continental climate. The project is readily accessible by regional gravel roads.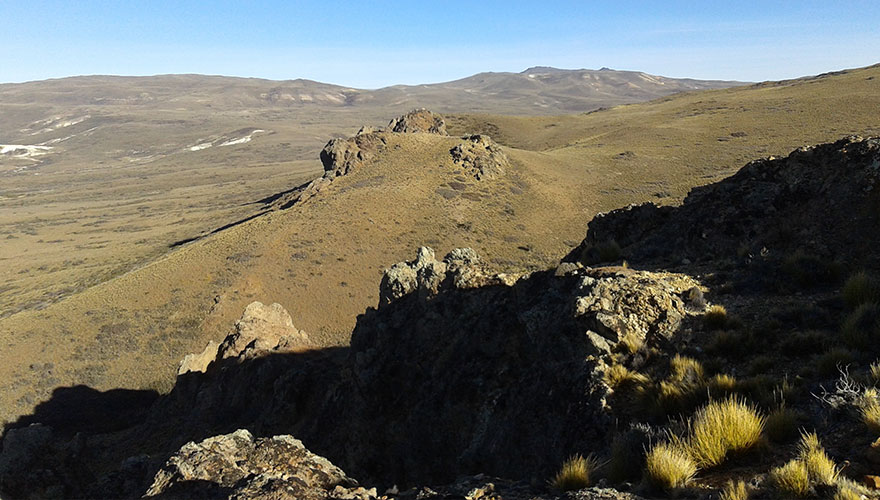 Highlights
Project tenure covers 40 km of a long lived, regional structural corridor with only five ineffective drill holes
Ore grade gold and very high pathfinder element concentrations reported from surface at El Bagual and El Amanecer prospects
Barrick drill hole intersected 104. 5m at 0.42 ppm Au from 80.2 m to end of hole, but hole was abandoned before target depth
Geology and MineraliZation
The stratigraphy at Los Toldos is comprised of a gently dipping sequence of felsic pyroclastic rocks of the Jurassic-aged Chon Aike Formation, overlain by finely bedded siliceous sediments of the La Matilde Formation, which are in parts masked by flat lying Cretaceous-aged continental sediments and Quaternary-aged basalts.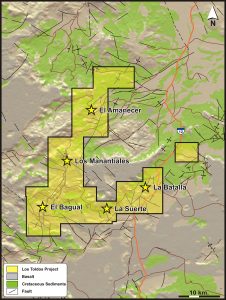 Low sulfidation epithermal gold mineralization occurs in steeply dipping quartz veins and quartz matrix breccias associated with argillic alteration and strong silicification with extremely high concentrations of pathfinder elements, such as As-Hg-Sb-Tl which imply the natural surface is high in the hydrothermal system. Silver concentrations are not high. Three principal prospects have been defined to date:
El Bagual: Located in the SW of the project area, where a broad corridor of gold and silver bearing chalcedonic silica veins, veinlets, crackle breccias and stockworks up to approximately 100 m wide is apparent on the west side of a long lived, N-S striking regional fault
Las Manantiales: Located along the principal structural trend between El Bagual and El Amanecer but largely masked by a veneer of post Jurassic deposits
Al Amanecer: Located approximately 22 km NNW of El Bagual on what is interpreted to be the same regional structural corridor. Subvertical gold-silver bearing epithermal quartz veins and tabular breccia bodies containing vein quartz clasts hosted by silicified crystal rich tuffs of the Jurassic Chon Aike Formation. Extremely high concentrations of pathfinder elements such as As-Hg-Sb-Tl reported.
Other prospects yet to be assessed include La Suerte and La Batalla.
Work to Date
El Bagual Prospect: Barrick Gold Corporation identified the prospect on the basis of an alteration anomaly associated with a regional lineament and a circular topographic feature and commenced exploration during 2002. Systematic geochemistry and geophysics were conducted between 2003 and 2005, culminating in the drilling of five diamond drill holes for 551.5 m. Owing to various factors, none of the holes was successfully completed and the best result reported was 104.5 m at 0.42 ppm gold from 80.2 m to the end of hole. The hole was abandoned at 184.6 m, well short of design depth of 300 m. The drilling by Barrick did not effectively test the target.
Rock chip and sawn channel sampling have reported values up to 6.55 ppm Au.
Patagonia Gold S.A acquired the project from Barrick during 2007.
El Amanecer: To date only geological mapping and surface sampling have been conducted at the prospect. Rock chip samples have reported up to 5.76 ppm gold and also very high pathfinder element concentrations; As, >10,000 ppm, Hg, 81.6 ppm, Sb, 738 ppm and Tl, 505 ppm.
Exploration Potential
Low-sulfidation epithermal gold +/- silver mineralization. At El Bagual a zone of auriferous veinlets approximately 100 m wide that have never been effectively tested with drilling. A structural corridor approximately 40 km long with only five ineffective drill holes.