Sarita is a 100%-owned project located in the SW part of the Deseado Massif. The project is situated 10 km along strike to the NW from Martha and 25 km from the Manantial Espejo mine (Pan American Silver Corporation). The project was acquired from Barrick Gold Corporation in 2007.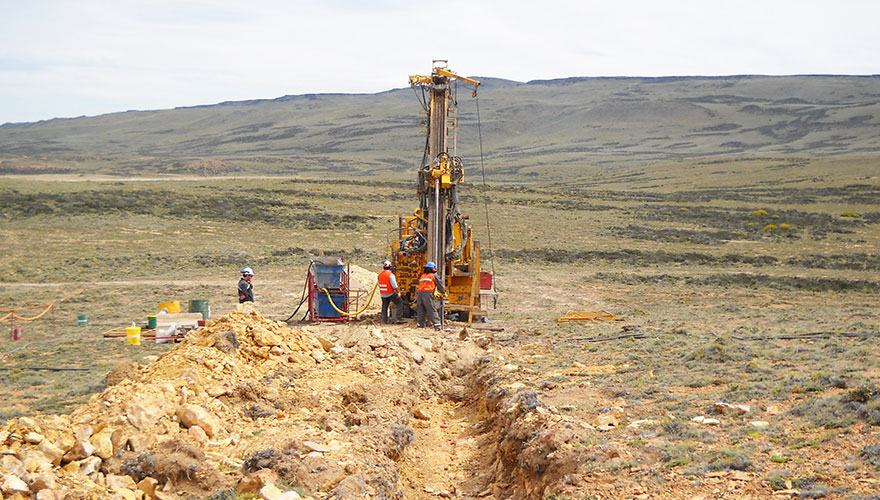 Highlights
Located in the silver rich, SW domain of the Deseado Massif, Santa Cruz Province, Argentina
Rhyolitic flow-domes in the core of a low-sulfidation quartz vein swarm on the flanks of a regional scale caldera
More than 10 km of veins mapped to date
High-grade gold (to 83 ppm) and silver (to 15,444 ppm) reported from surface sampling
Provincial road access through the project area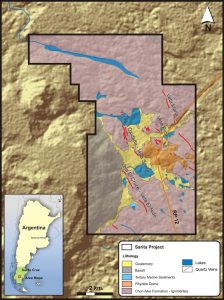 Geology and MineraliZation
The Sarita project comprises a central rhyolitic, flow-dome complex located within a swarm of NW-SE striking, steeply dipping low-sulfidation style banded quartz veins hosted within shallow dipping dacitic to rhyolitic pyroclastic deposits of the Chon Aike Formation.
Geologically, the area displays very similar structural and stratigraphic characteristics to the mineralization at the Company's Martha property, with Ag-rich, polymetallic, vein-hosted intermediate sulfidation style mineralization. NW-SE striking lineaments can be traced between and potentially connecting, Sarita and Martha. Both Sarita and Martha are interpreted to be located on the margin of a large caldera structure.
Two principal styles of mineralization have been identified at the Sarita project:
High-grade, silver and polymetallic rich, colloform-crustiform banded, low- to intermediate sulfidation, epithermal vein-hosted mineralization
Low-grade, bulk tonnage mineralization with precious metals hosted in the autobrecciated carapace (upper shell) facies of a rhyolitic flow-dome
Several, discrete mineralized corridors hosting persistent quartz veins/breccias in NW-trending structures have been identified. The total length of the mapped structures is approximately 10 km, within a 4 km wide structural corridor, and include quartz veins, veinlets, stockworks and quartz vein-breccia structures associated to WNW faulting and silica/illite (+/- adularia) alteration. Textures are represented by colloform/crustiform, comb, CRT, cockade, massive, ochreous and zoned quartz. Precious and base-metal mineralization has been recognised in quartz veins-breccias up to 3 meters wide at surface, composed of quartz + Sulfides. Rock chips from discrete vein structures or aligned float have returned anomalous gold samples with up to 83.40 ppm Au and up to 15,444 ppm Ag, in separate samples; as well as several samples with > 1 per cent copper.
Work to Date
Mapping, channel sampling, trenching, Gradient Array IP-resistivity and ground magnetic surveys, and 29 drill holes for a total of 3,469 m. The majority of the exploration activity has focused on the central dome complex intersecting broad zones of low-grade silver and gold mineralization. More than 10 km of quartz veins have been mapped in the southern sector of the project only with rock chip samples reporting gold values to 83 ppm and silver to 15,444 ppm from the quartz vein system. To date, only 16 short drill holes have targeted the vein system. A recent exploration drilling program, consisting of 80 shallow RAB drillholes for 2000m in total, has been carried out along the El Nido-El Cruce vein system and focused on sub-cropping or blind structures. Geochemical results from this program are expected by the end of August 2019.
Exploration Potential
High grade vein-hosted low-sulfidation silver mineralization and low-grade Las Calandrias-style dome-hosted mineralization. More than 10 km of veins to be evaluated.