Patagonia Gold is a mining and exploration company with the primary objective of increasing shareholder value through the acquisition, exploration and development of gold and silver projects in the southern region of Argentina, either on its own or with joint venture partners. Management is based mainly in Buenos Aires, Argentina.

On 24 July 2019, the Company announced that, following shareholder approval, it had completed an arm's length Scheme of Arrangement with Canadian company Hunt Mining Corp. ("Hunt") through which it had acquired all Hunt's assets via a reverse takeover of Hunt. The enlarged company is now known as Patagonia Gold Corp. and trades on the Toronto Venture Exchange (TSX-V) under the symbol PGDC.
Following this transaction the Company holds, directly or indirectly through its subsidiaries or under option agreements, the mineral rights to over 350 property interests in Argentina, Chile. These include the mineral rights to 67 property interests in the province of Santa Cruz covering approximately 190,000 hectares held by the Company's 90%­ owned Argentinian subsidiary, Patagonia Gold S.A. ("PGSA") and to 51 property interests covering approximately 156,000 hectares held by its wholly owned Argentinian subsidiary Minera Minamalu S.A.
Patagonia Gold is one of the largest landholders in the very prospective province of Santa Cruz. Currently its sole producing mine in the region is the Martha mine acquired via the Hunt transaction.  Formerly owned and operated by Coeur d'Alène Mines and Yamana, Hunt acquired the mine in May 2016 with production of gold and silver concentrate recommencing in January 2017.
Following cessation of open pit operations at Cap-Oeste, work is continuing to evaluate the development of the high-grade underground resource which contains approximately 300,000 oz AuEq at 20 g/t Au.
Other projects in Santa Cruz are at different stages of development.  The principal projects are La Josefina, La Valenciana, El Tranquilo, La Paloma and La Manchuria.  Other less advanced projects include Los Toldos, Sarita, El Gateado and Bajo Pobre together with exploration properties El Tordillo, El Alazan, and El Overo.
The Company's principal project is Calcatreu located in Rio Negro province: a gold/silver project which it acquired in January 2018 through the acquisition of Minera Aquiline Argentina SA, a subsidiary of Pan American Silver. Calcatreu, has a resource of over one million oz AuEq and the Company's immediate aim is to commence a drilling programme to increase the existing resources and advance the project to feasibility study stage during 2019.
In 2015, Patagonia Gold also optioned several mining properties in Uruguay through an agreement with Trilogy Mining Corporation.
The Company has developed a portfolio of highly prospective, grassroots and more advanced projects, with many that exhibit the potential to host high grade, gold­silver vein systems. The Company's long term goal is to discover world class assets through exploration and is currently focused on growing its mineral resources and advancing them into production.
Santa Cruz Province
The Company considers Santa Cruz to be a mining­friendly province that supports active mining and petroleum industries. The volcanic plateau of the Deseado Massif of Santa Cruz is six million hectares in area and hosts several mines, including Cerro Vanguardia, Cerro Negro, Manantial Espejo and San Jose Huevos Verdes, as well as various advanced projects such as Cerro Moro. As a consequence, Santa Cruz benefits from existing infrastructure and a workforce that understands exploration and mining. In addition, these projects are predominantly low sulphidation, epithermal "bonanza" vein style gold­silver deposits and their brecciated equivalent. This geological trait is the main target for exploration in this region.
Patagonia holds a number of advanced exploration projects in Santa Cruz and is concentrating exploration efforts on five distinct property blocks:
Patagonia holds a number of advanced exploration projects in Santa Cruz and is concentrating exploration efforts on three distinct property blocks:
The El Tranquilo property block hosts the Cap­Oeste gold and silver project ("Cap­Oeste"), as well as the Monte Leon, La Marciana, Don Pancho, Breccia Valentina, Vetas Norte, Felix and Laguna prospects, together with the Estancia La Bajada acquisition
The La Manchuria property block hosts the Manchuria Main Zone gold and silver project ("Manchuria")
The La Paloma property block hosts the Lomada de Leiva gold mine ("Lomada") and the Estancia El Rincon acquisition.

La Josefina
La Valenciana
In addition to these five main property blocks, Patagonia Gold has around 20 further mining properties covering approximately 133,000 hectares located in the highly prospective Deseado Massif.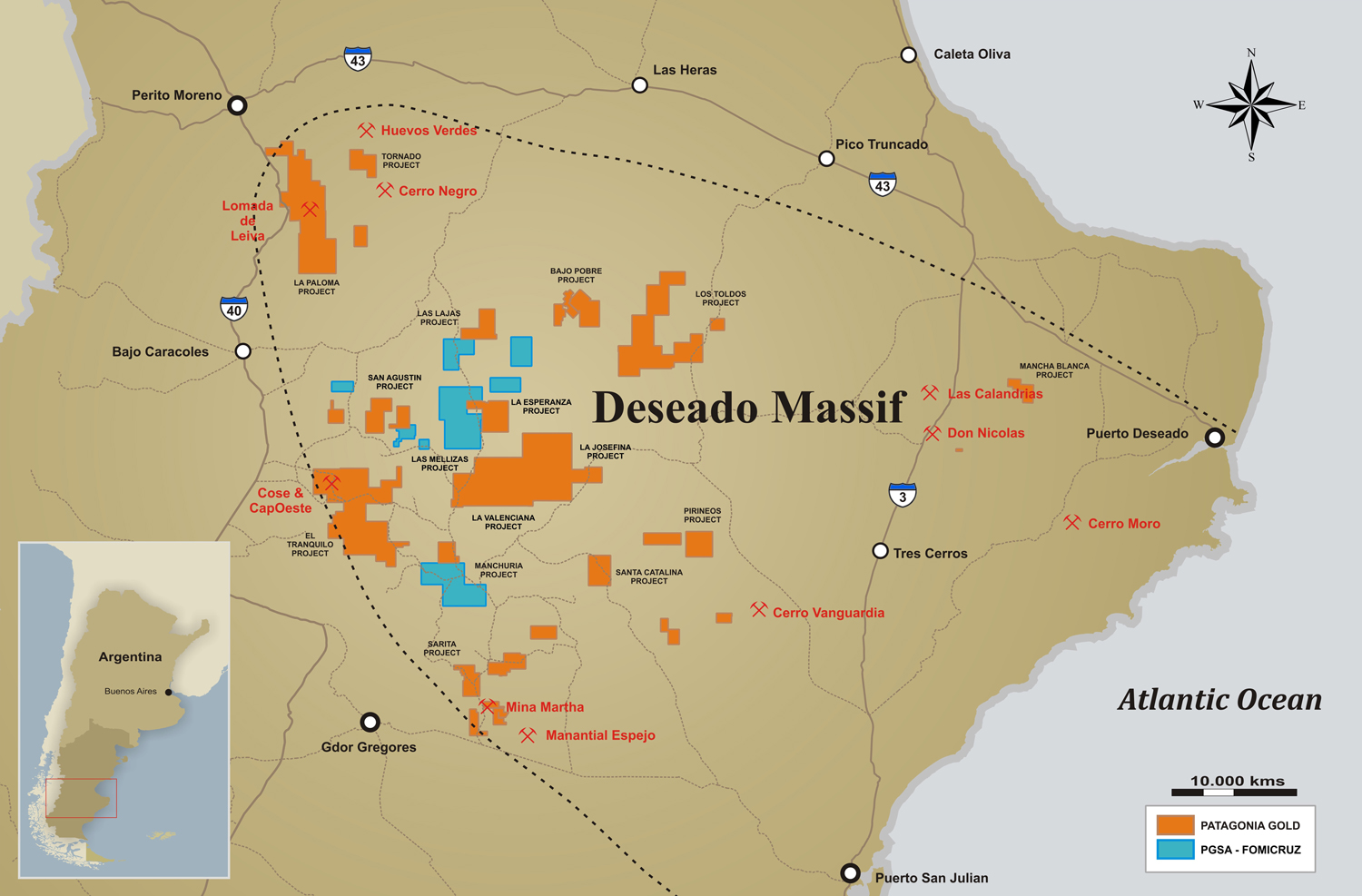 RIO NEGRO PROVINCE
Rio Negro is a mining­friendly province in Argentina with a proactive local government intent on increasing local investment and creating long term jobs growth.
The Company's mining properties are located in the Somuncura Massif in a relevant geological and structural setting. The district contains many mineral showings along N­NNW trending belts, hosting several mines and mineral deposits, which represent different genetic models with various styles of mineralisation.
In May 2017, Patagonia Gold announced that it had signed an exclusive six­month option agreement with a wholly owned subsidiary of Pan American Silver Corp. to acquire the Calcatreu gold­silver project in Rio Negro. This purchase option was exercised in December 2017 at a cost of US$15 million and the acquisition was completed in January 2018.
Calcatreu provides Patagonia Gold with the opportunity to develop a larger, longer life asset in a new pro­mining jurisdiction.
CHUBUT PROVINCE
Legislation in place in Chubut currently bans open pit mining and the use of cyanide. This province is host to two world class deposits, Esquel and Navidad. Patagonia Gold holds approximately 360,000 hectares in the Province of Chubut with most of our mining properties in the vicinity of the Esquel and Navidad deposits.